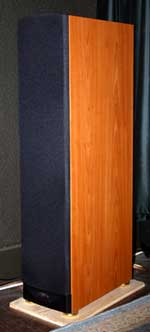 Surround sound, no home theater is complete without it. Of course, to achieve surround sound requires speakers and lots of them. Speakers are one of the most personal decisions you have to make when it comes to home theater equipment. Some people swear by the sound of a certain brand while others will have a strong dislike for the same brand. The best advice I can give to you is go to your local home theater shops and listen to as many speakers as you can and choose the ones that you think sound the best. One thing to keep in mind is that speakers will often sound very different in your own house than they do in the store, so if possible find a place that has a good return policy. Most good places will allow you to bring stuff back if you don't like the sound of them in your house. Some places will even let you take them home to demo at your house before making a purchase, it is stores like this that I like to buy from.
When it came time for me to pick out speakers I went with Paradigms. A good friend of mine who got into home theater before me ended up with Paradigm speakers and I have been a fan since. I find that they offer amazing sound, good looks and an incredible value.
For my two main front speakers I ended up with Paradigm Studio 60s which are a part of Paradigm's Refernce line. The Studio 60s stand about 36 inches tall, 9 inches wide , and 15 inches deep mine are finished in their cherry finish and I think they look great. I was debating between Paradigm's 60s and 40s, I went with the 60s because I prefer a floor standing speaker purely for aesthetic reasons. I have been very happy with the Studio 60s, I think they sound great for both music and movies. I don't know if I will ever replace them unless I happen to come into a whole lot of money or something extraordinary comes out that I could afford.
For my center I went with another speaker from Paradigm's Reference line, the Studio CC. This was actually the first speaker that I bought when I got serious about home theater. I was living with a friend of mine who had a pair of Bose speakers (yes, I said the dirty word) and since we already had something that could work as a pair of mains I decided to get a center channel. The Studio CC is actually the only speaker that I bought new, all of my other speakers I picked up used. Since the Studio CC is part of Paradigm's Reference line as are the Studio 60s they match perfectly tonally making for a seamless soundstage. I have no complaints with the Studio CC, dialog is always clear in movies, it is a great match to my Studio 60s and it was very affordable.
For a long time I was I using some old Boston Acoustic bookshelf speakers that I had gotten as a gift many, many years ago as my surround speakers. They were in really bad shape, I had blown them out in college and replaced the drivers with some cheapie drivers from Radio Shack. After that I picked up an entire Paradigm surround sound package for a really good price from my local classifieds. Included in the package were a pair of Paradigm Atoms which I used as my surrounds. They were good little speakers, not my ideal choice, but for the price I paid for them it was hard to complain. I finally replaced the Atoms with a pair of Paradigm Studio ADP-470s. I purchased the Studio ADPs from the classified section of hometheaterforum.com and I have been very, very happy with them. I am really enjoying the dipolar type speakers. I had never used them before and I am now a firm believer in them.
When I upgraded my Outlaw 1050 to the Outlaw 950 I had the capability to go to 7.1 sound. I watched the classifieds and ebay for awhile and finally found a great deal on some Studio 20s with the cherry finish (same finish as my studio 60's). My good friend who introduced me to home theater that I mentioned earlier in this article had a pair of Studio 20s and I have always been extremely impressed with them. I almost feel as if they are not being used to their full potential in my setup because they are purely for rear surrounds in the 7.1 setup. 7.1 is really nice though and definitely a steup up from 5.1 so I am not about to complain.
I do have a subwoofer as well, a Paradigm Servo-15, but I gave it a page of its own. You can see that page here: Paradigm Servo-15