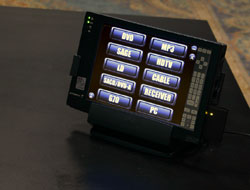 With an ever growing amount of home theater components I had an ever growing amount of remotes to go with it (I have a total of 10). It reached critical mass and I bought myself a universal remote. The first remote that I got was the Marantz RC2000mkII and it worked great, I could control everything from one remote and all was good in the world. When I built my HTPC It opened up the possibility of having a much cooler remote system. This is where the Fujitsu comes in.
I run a program called Netremote on the Fujitsu tablet. I discuss Netremote in much more detail in my HTPC section, the page can be found here. But seeing how Netremote is computer program you need a computer to run it on. Netremote comes in two flavors one for Windows and one for Pocket PCs. I personally use the one for Windows and don't really know anything about a Pocket PCs. Since I am using the Windows version, I need a device that ran Windows. I ended up with a Fujitsu Stylistic LT tablet PC featured on this page. The Fujitsu has a 8.4″TFT Color touch screen LCD, a 233MHz Intel processor, 64MB of RAM and a 4gig hard drive. I bought my tablet from an online retailer, but they no longer have them. The tablet also cam with a mini docking station which I absolutely love. I keep the tablet in the docking station 95% of the time, it just sits on my table and I think it looks good. With it in the docking station I never have to worry about the batteries and it keeps it in a very convenient place which makes using it very easy. You can find tablet PCs on eBay all the time and I much prefer the size and look of tablets to Pocket PCs. To me a Pocket PC is just to small and it looks like just a normal remote. I love having the big screen that the tablet affords because it gives me much more freedom when I design my Netremote screens and it looks so hi-tech and cool, it really makes a great impression on guests.
My tablet has performed great. Combined with netremote I think it gives me the best remote control possible and the wow factor is really hard to beat. I will admit that there are times where I wish I could just quickly pick up a remote and turn up the volume or something and I do sometimes miss the tactile feel a handheld remote can offer you. Of course if I really wanted to I could incorporate a handheld remote to compliment my tablet pc/netremote remote if I wanted to. hmmmmm now there is a thought.
Looking to purchase a Tablet PC? Then check out my Tablet PC store!
Tablet Related Links
Netremote & Girder Home Page
USB-UIRT
Ebay is probably the best source to find an inexpensive tablet. You don't need much so an older model works great. I have bought three tablet PCs off ebay so far.