Like many aspiring audiophiles I wanted to take the leap into separates and move away from an all in one receiver. I had also been eying stepping up to 7.1 surround sound to really complete my theater. There are several benefits to having separates, the major ones being, moving the processor electronics away from the heat generating amps, separate power supplies, it makes upgrading easier because you can replace just your amp or processor and not have to switch both. Since I was so happy with my Outlaw 1050 receiver Outlaw was the first place I looked when it came time to pick something out. When the 950 was first released the buzz it created was massive. The amount of features and the quality of it at the price they were asking was practically unheard of at the time. Obviously in the end I ended up getting the 950 as well as Outlaws 7100 amp to power everything and some of Outlaws cables to hook the two of them together.

The 950 is loaded with features and can handle just about any surround sound format you throw at it such as Dolby Digital Surround EX, Dolby ProLogic II, the complete suite of DTS-ES and DTS Neo:6 processing and decoding, and Cirrus Logic's Extra Surround, in addition to 5 Channel Stereo and 7 Channel Stereo modes. The 950 is also loaded with inputs. It has four optical and two coaxial inputs for digital sources which are all assignable to any of the five A/V inputs, it also has four pairs of audio only analog inputs for your more basic devices such as tape players and record players. One nice feature is the ability to route all analog inputs so that the signal is routed around the DSP and directly to the volume control. A 5.1 multi-channel analog input set is included so you can hook up SACD or DVD-A players. The 950 doesn't skimp on the video side of connectivity either, you get two component inputs and one component output, five audio/video inputs for your DVD player, VCR, etc. You can hook the 950 up to your display device with composite, S-video or components outputs. The 950 is also capable of converting your RCA inputs into S-video but it unfortunately cannot convert RCA/S-videa into component. Also the 950 is unable to carry the onscreen menu over the component connection. Due to all the connectivity options in the Outlaw I was able to remove the NEC 6010 switcher from my system which simplified things.

I have been very happy with the 950 in just about every category. It sounds equally good in the surround sound modes as it does in listening to it in stereo mode. I have really enjoyed having the Cirrus surround sound option on this unit. This mode allows you to take a 2 channel or 5.1 channel mix and convert it into a 7.1 mix from both analog and digital sources, it works surprisingly well and can really liven up regular TV. The 950 is a great unit and I don't see myself replacing it at any time in the near future.
Outlaw 7100 Amplifier
I of course needed something to power all my speakers since the 950 is just a processor. I decided to stick with Outlaw Audio again and picked up their 7100 amplifier. Weighing in at fifty pounds I knew right away this was a serious piece of equipment but it was still an incredible value. These two Outlaw products make for a pretty hard to beat combo, music comes alive with this gear and movies sound amazing. The clarity is amazing, it never sounds strained or distorted regardless of how long or loud I play it (and I often play it loud).

I would just like to personally thank Outlaw audio for these two products, with their business model (internet only sales, you buy directly from them therefore cutting out the middleman) I have been able to afford the type of quality equipment that probably would have cost me two or three times as much if I were to go with another manufacturer. If you are in the market for some new gear I highly suggest taking a look at Outlaw's offerings. The two models that I have have been discontinued now and replaced with newer models.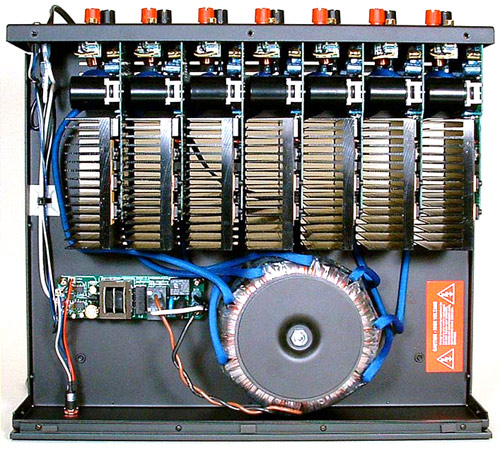 Outlaw 950 Processor Specs
Audio Section
Analog
Frequency response: 10 Hz – 90 kHz: +0, -3 dB (Bypass Mode)
Signal to Noise Ratio: 102 dB (Bypass Mode)
Distortion: 0.0038% (20 Hz ~ 20 kHz) (Bypass Mode)
Input sensitivity / input impedance: 200 mV/ 47kohms
Rated output: 1V(0dB gain in Bypass Mode)
Digital
Signal to Noise Ratio: 102 dB
Total Harmonic Distortion: < 0.005% (1 kHz, at 0 dB)
Dynamic Range: 100 dB
D/A Output: Rated output 2 V (At 0 dB playback)
Digital Input: S/P-DIF Format
DSP Processor: Cirrus® CS 49326
ADC: Cirrus CS 5360
DAC: Cirrus CS 4396
Video Section
Composite
Video Format: NTSC
Input/Output Level: 1 volt P-P
Input/Output Impedance: 75W
Frequency Response: 5 Hz – 10 MHz — +0, -3 dB S-Video
Signal Format: NTSC Y/C
Luminance (Y) Input/Output Level: 1 volt P-P
Chrominance © Input/Output Level: 0.3 volt P-P
Input/Output Impedance: 75W
Frequency Response: 5 Hz – 10 MHz — +0, -3 dB
Component Video
Signal Format: NTSC Y/Pr/Pb
Analog Components
Luminance (Y) Input/Output Level: 1 volt P-P
Pr Input/Output Level: 0.7 volt P-P
Pb Input/Output Level: 0.7 volt P-P
Input/Output Impedance: 75W
Frequency Response: DC – 45 MHz — +0, -3 dB
General
Power supply: AC 120 V, 60 Hz
Power consumption: 45W
Dimensions (including feet and connectors): 17.12 (W) x 4.6 (H) x 14.76 (D) inches, 435 (W) x 117 (H) x 375 (D) mm
Weight: 17.6 Lbs/8 kg
Trigger Outputs (x2): 12 VDC, 100 mA maximum
Outlaw 7100 Amplifier Specs
Power Output (FTC): 7 x 100 watts @ 8 ohms, 20 – 20kHz, 0.05% THD, All Channels Driven; 7 x 165 watts @ 4 ohms, 20 – 20kHz, 0.05% THD, All Channels Driven
Signal to Noise: 119dB "A" weighted
MFR: 20Hz. -20kHz. +/- 0.1 dB at rated output
THD: < 0.05% at rated output, all frequencies, < 0.01% at 1 kHz.
IMD: < 0.05% at rated output.
Power Bandwidth: 5Hz – >100 kHz +0/-3 dB
Damping Factor: > 400 from 10 Hz to 400 Hz
Crosstalk: > -90 dB from 20 Hz to 20Khz
Gain: Voltage gain of 28.
Slew Rate: 50v/Microsecond
Input Impedance: Nominal 50 kOhms
Size: (HxWxD): 5″ with feet x 17.2″ x 16.2″
Weight: 51 Pounds
MSRP: $899