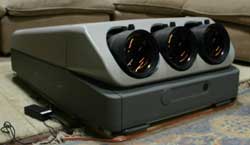 My Sony VPH-G70 CRT projector is the crown jewel of my home theater. In my opinion, a big screen really makes it feel like you are watching a movie and not just watching TV and is an essential part of any home theater. Before I got my projector I was just going to get myself a rear projection TV; but one day going through the classifieds, I saw an ad for a CRT projector and the price astonished me. This led me to research them some more and it was at that time that I discovered the AVS forum. If you have any interest in learning about projectors, especially CRT projectors, AVS is the place to go. I found out that with the rise of small and cheap digital projectors that CRT projectors could be had for pennies on the dollar because lots of corporate boardrooms and government facilities were unloading them. So I read up on them some more, watched the classified ads and eBay, and checked out the trusted sellers that hang out on AVS and finally picked one up from Hammerhead Tech.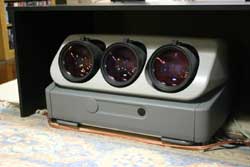 The G70 is actually the second CRT projector I have had in my home theater. My first CRT projector was a Sony VPH-1272Q which is an electrostatic focus, air coupled, 7″ CRT projector. The G70 on the other hand is an 8″, electromagnetic focus, liquid coupled projector. The reasons for the upgrade were: with 8″ CRTs I get more brightness and can run at a higher resolution; with liquid coupling I get better black levels and tighter focus, and electromagnetic focus allows me even better focus and a smaller beam spot size. While I really liked my 1272 I came across the G70 in the local classifieds at a price that was hard to pass up. I have been very happy with the G70 and I don't think I will ever replace it unless I either hit the lotto or find a ridiculously good deal on a 9″ machine like a Sony G90 or an Electrohome 9500LC.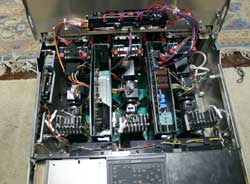 Due to room constraints I have my G70 mounted on the floor under a DIY coffee table. My table, as you can see, isn't much to look at but it gets the job done. I am projecting an 87″ wide by 49″ tall image; this translates to a 100″ diagonal 16:9 screen. I have a separate page for my screen but in case you are wondering I am using a DaLite High Power Screen. I run the projector at 1280X720 resolution via my HTPC for DVD and standard definition sources. I run it at 1080i for HDTV sources. I have done all the setup and installation on my projector by myself or with the help of some non-techie friends and family to use as an extra set of eyes. While I think I have done a very good job, I would like to get a pro in at some point to adjust my gray scale, and maybe, when I buy a house of my own, I will get a pro to set up the entire thing from start to finish, as of now it is just not in the budget.
Shopping for a CRT projector? Then check out my CRT projector store!
I added two new guides regarding the G70 check them out.
Sony G70 Fan Mod
Sony G70 Tube Replacement
Sony G70 Specs
Picture tube:
8-inch (phosphor size 6-inch) high luminance, electromagnetic focus tubes
Projection lens:
Double focus, F1.1/135mm
Screen coverage:
60 to 300-inch measured diagonally, factory preset to 120-inch
Light output:
ANSI*1: 240lm (fH: 110kHz, fV: 50Hz, 6500K)
200lm (fH: 15kHz, fV: 60Hz, 6500K)
1200lm (peak white)
320lm (all white)
SIGNALS
Color system:
NTSC, PAL, SECAM, NTSC4.43, PAL-M
Resolution: 700TV lines (video)
1100TV lines (HDTV)
1700 x 1200 pixel
Scanning frequency:
Horizontal: 15 to 110kHz
Vertical: 38 to 150Hz
RGB bandwidth: 120MHz-3dB
GENERAL
Dimensions: 27 3/8 x 14 1/8 x 37 5/16 inches
Mass: Approx. 183 lb
INPUTS/OUTPUTS
Video: Composite: Loop-through BNC
Input A: BNC x 5
Analog RGB/Component:
HDTV*2 (Y/PB/PR):
Input B:
Supplied with an IFB-40: 14-pin multi connector (input: male, output: female)
Sony G70 Downloads
If you find these manuals useful please consider donating to my site, these eat up a ton of bandwidth every month. Thank you.
Operating Instructions (2MB)
Installation Manual (6MB)
Brochure (1MB)
Service Manual (117MB)
PJ Calc (2MB)
Phillips Test Pattern Generator (3MB)
Nokia Test Pattern Generator (300KB)