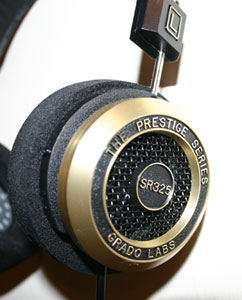 My most recent addition to my home theater is a pair of Grado SR325i headphones that I received for Christmas. I have been wanting to get myself a pair of really high quality headphones for a long time and when I couldn't really think of anything that I wanted for Christmas it seemed like the perfect time. I did a ton of research listening to headphones and traveling all over the bay area to find the perfect pair for me. I listened almost all of the Grado offerings, lots of Sennheisers, some Sony's, Koss, and a couple of AKG headphones. In the end I decided on getting myself some Grado 325i's and I haven't regretted my choice at all.
The entire Grado line of headphones are really a pleasure to listen to. If you are new to the world of quality headphones, eg. something better than what came with your ipod, and don't want to spend an arm and a leg on a pair I highly recommend you try out a pair of Grado SR60's which you can pick up for about $70. In my opinion the SR60s are one of the best values in headphones out there, they are quite remarkable. The SR325i that I have are quite a few levels above the SR60s but they cost considerably more, they retail for $295 which when you tell someone who isn't at all into audiophile equipment often causes them to look at you funny or say something like "for headphones?!?". They are worth every penny though. The amount of detail in these headphones is stunning. I am finding myself listening to all my CDs over again because hearing them through these headphones is like hearing them for the first time. I almost always notice something new about a song that I hadn't picked up before.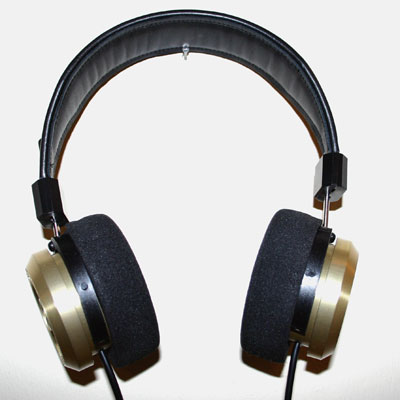 I could go into how rich the midrange is, how tight and clean the bass is, how smooth the top end and how spacious the soundstage is, traits that the Grado 325i have in spades, but my eyes always kind of glaze over when I read statements like that. The bottom line was for my budget these were the best sounding headphones for me.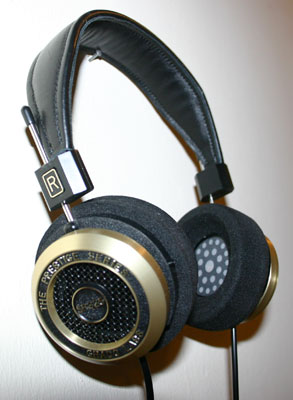 I had read that I was going to need a headphone amp for these. I haven't found that to be the case. While I am sure that getting an amp will make them sound better, and I do plan on picking one up eventually, I am very happy with the sound right now. I should also note that these headphones sound much better after allowing them to burn in for a couple hundred hours. To burn mine in I would just put a CD on repeat before I would go to bed and then leave it running all night and then all day when I would be at work, did that for about a week and I was good to go.
If you are thinking about getting a pair of audiophile level headphones I can highly recommend the Grado SR325i to you. I personally like them better than Sennheiser's HD600 which is their main competition in this price range (don't get me wrong the Sennheiser's HD600 as well as the HD580's where both great headphones). Sure I would have loved to have gotten a pair of Grado RS1's with their sexy wood housing but my budget couldn't quite stretch that far ($700) but when I looked at what I was getting for the money, the 325i's where almost a bargain. If you are thinking about getting a pair, I wouldn't hesitate, your ears will thank you.
In the market for some new headphones? Then check out my new Headphones store!
Grado 325i Features/Specs
Features:
Vented diaphragm
Aluminum air chamber
UHPLC copper voice coil wire
UHPLC copper connecting cord
Tranducer type: dynamic
Operating principle: open air
Frequency response: 18-24
SPL 1mV: 98
Normal impedance: 32ohms
Driver matched db: .05
Check out these Grado headphone auctions going on at ebay right now.