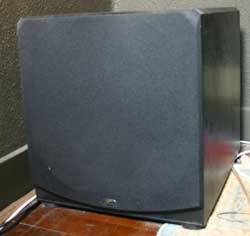 In my opinion a subwoofer is the second most important part of a good home theater; a really big TV (preferably a projector) being the most important. While a lot of people may have speakers and maybe even surround sound installed in their home not a lot of your normal folks have a subwoofer. A subwoofer really brings things to life and gives movies a lot more impact. With a subwoofer sound is not only heard but it is felt as well. Most speakers are not up to the task of accomplishing what a subwoofer does, they simply can't reach that low in the sound spectrum, often as low as 20Hz and sometimes even lower. I find when people come over to my house for the first time to watch a movie, once they get over the size of the screen the thing that impresses them is the sound. Granted I am sure my whole sound setup helps here but often it is the wall rattling bass that grabs their attention. The Butt Kickers help here too.
When it came time for me to pick out a subwoofer I had quite a choice to make. There are literally hundreds if not thousands to choose from. I knew I wanted something powerful and something that I could live with for a very long time so I decided to go big right from the start. I went to Music Lovers which is my local stereo shop to sample what they had and it turned out that they had a used Paradigm Servo 15; a subwoofer that I originally thought was going to be out of my price range. I am a big Paradigm fan, all of my speakers are made by Paradigm, I feel they offer amazing products at a very reasonable price so I was very excited to see they had a servo 15 that I could afford. I got a demo listening to some nice bass heavy scenes and I was sold. While I was there demoing subwoofers I also go to listen to some Avalon speakers which absolutely blew my mind, but that is a whole nother story.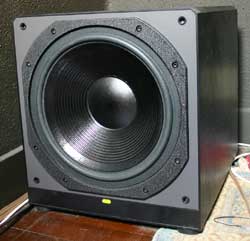 When I got my subwoofer home it wasn't working. Needless to say I was not very happy, but I just have to give some props to Music Lovers for the way that they handled the situation. They set the bar for customer service. I called them up and told them the subwoofer wasn't working, the first thing I heard from them was "don't worry about it, even though you bought it used we guarantee all used products like they are new". Hugh was the salesman that I dealt with and he walked me through some troubleshooting over the phone but nothing we did worked. Hugh asked me where I lived and I am only about a mile or so from their store so Hugh hopped in his car and drove over (during business hours mind you). He showed up and took a look at the subwoofer and determined that I just had a loose connection, he had a soldering iron with him so he attempted to fix it. The soldering iron he had was one of those little butane ones and it just wasn't getting hot enough, so Hugh drove back to the store got a better soldering iron and came back and fixed my sub. How is that for customer service? If you are in the San Francisco bay area, I highly recommend Music Lovers they are a really a great group of guys and very knowledgeable about the products they sell. They also have a really cute cat that lives in the store.
I have been eminently happy with my Paradigm Servo 15, it is one piece of gear that I don't see myself ever replacing. It can play louder than I would ever need, it literally shakes my house, it is amazingly clean, it is simply awe inspiring. I feel lucky to own one.
Paradigm Servo 15 Specs
Design: Single-driver, Closed-Loop Servo system; sealed enclosure, built-in power amplifier
Amplifier: 400 watts RMS / 1200 watts
Amplifier Distortion: Less than 0.005% distortion
Amplifier S/N Ratio: Better than -120 dB
Bass Driver: 380-mm (15″) KRC™ Kevlar® Reinforced Composite cone, 50-mm (2″) Bifilar 2+2-layer voice coil, Aluminium / Nomex® former.
Low Frequency Extension: 14 Hz (DIN) *
Frequency Response: ±2dB from 17Hz–150Hz
Total Harmonic Distortion: Less than 0.3%
Line Level Input: From Sub-Out / LFE-Out of receiver, processor or Paradigm® X-Series unit (included, see dealer)
Internal Volume: 97 L / 3.40 cu ft
Height, Width, Depth: 20 x 18 x 23in
Weight: 41kg / 90 lb each
Paradigm Servo 15 Link