My second projector is an Infocus X1, now you may be wondering why two projectors? I got the X1 primarily for video games, CRT projectors are susceptible to burn in, if you display a static image for two long the image can get permanently burned into the face of the CRT tube which will then show up in the image area regardless of what you are watching. It isn't to big of a problem if you take precautions but with the price of digital projectors where they are now I was willing to spend the money so that I wouldn't have to worry about it. The X1 is also going to be my beater projector. When I have to do some tweaking on my HTPC I am going to use the X1 and save the wear and tear from my G70. I will also use the X1 when I am sitting at my computer working on stuff and want to have the TV on in the background. I can also take the X1 with me if I ever want to take it to a friends house or on vacation. I would also some day like to setup a screen outdoors and have outdoor movie night.
As I stated earlier, the primary reason I bought the X1 was for video games. I've been a gamer ever since the Atari days but I had never gotten one of the latest generation machines and I have been itching to do so for a long time, so I finally broke down and got myself a Xbox. Gaming on the big screen is really something else. It really sucks you into the game when your character is life size (or bigger) and the Xbox also supports 5.1 sound which can be truely amazing.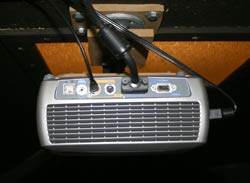 How do I like the X1? For gaming it is great, I can play for as long as I want with no worries of burn in, the image is nice and bright and the image quality is fine. That said, I could not live with the X1 as my sole projector. The image quality isn't even close to what I achieve my G70 it isn't even close to what I got with my old Sony 1272 CRT projector. There are no blacks with the X1, only shades of gray, the image looks "digital" and not at all film like, I can see rainbows on a regular basis, screen door isn't a problem for me since I sit so far back from the screen but would become so if I sat closer. Granted my G70 cost considerably more, but if I was getting one projector for all my home theater needs I would consider a lower end used CRT over the X1 if image quality is high upon your list of priorities.
I can see the appeal for going with digital projector though. The X1 is minuscule compared to my G70 and weighs about 1/20th of what it weighs. Setting it up is also considerably easier as well and can be done in just a few minutes. The image is also nice and bright which can become useful if you don't have good light control or like to watch with some room lights on.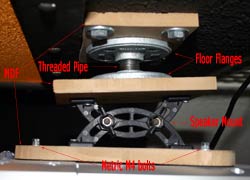 I made my own mount for the X1 and it was really quite easy. I actually had everything I needed, minus the nuts and bolts, already on hand. Here is how I did it. I took two plungers flanges, a small piece of threaded pipe, three small pieces of MDF (wood), an old speaker mount, some screws to attach everything together and three metric M4 thread 4mm x 0.7mm thread pitch screws that go into the projector itself. I took one piece of MDF, and attached one of the plumbers flanges to that, this piece attaches to the ceiling. I then took the small threaded pipe and screwed it into the flange. The nice thing here is you can use different length pipes depending on how far you need the projector to drop from the ceiling. I then took the second flange and screwed it into the threaded pipe, with this arrangement it allows you to aim the projector left to right. Another piece of MDF is attached to the flange. I then took the old speaker mount that I had and attached that to the MDF, this allows the projector to tilt so you can aim it up and down. Then at the bottom is another piece of MDF which attaches to the speaker mount and to the projector itself. One important thing to consider is the length of the screws that go into the projector itself. The thread going into the projector is exactly 10mm, do not exceed this or you can damage your projector! For more details on building your own mount look at the X1 FAQ I have linked to down below.
Looking to buy a DLP projector? Then check out my DLP Projector store!
Infocus X1 Specs
Aspect Ratio: 4:3 standard; 16:9 wide
Brightness: 1100 max ANSI lumens
Contrast Ratio: 2000:1 full on/full off
Data Compatibility: SVGA, VGA, XGA, Macintosh®
Display: DLP™ by Texas Instruments: 0.55″ SVGA DDR DMD
Image Size (diagonal): 2.7' to greater than 21.6' (0.8m to greater than 6.5m)
Light Source: 150W SHP/ 4000 hours
Native Resolution: SVGA (800 x 600)
Projection Lens: Zoom lens with manual focus and manual zoom adjust
Projection Methods: Front, rear, ceiling
Video Compatibility: NTSC, PAL, SECAM, EDTV, HDTV (1080i and 720p RBGHV)
Maximum Projection Distance : 32.3'/ 9.8m
Minimum Projection Distance: 5'/ 1.5m
Zoom Ratio: 1.2:1
Dimensions: 9.8″ (W) x 12.5″ (L) x 4.2″ (H)/24.9cm x 31.8cm x 10.6cm
Weight: 6.8 lbs/ 3.1kg
Sources: Computer (VGA 15-pin HDDSUB female); video (S-Video 6-pin mini DIN, component RCA through S-Video adapter, and composite video RCA); audio (3.5mm mini-jack)
Brightness: 1100 max ANSI lumens
Number of Colors: 16.7 million
Infocus X1 Links
Infocus X1 official site
Infocus X1 FAQ
Check out these X1 related auctions that are going on at ebay right now.