When I moved into my new place I knew right away that light control was going to be a major issue. I have a wall that is pretty much all windows and two skylights. While I do have blackout curtains on all the windows and skylights they aren't perfect and my loft is far from dark during the day. The projector was somewhat usable but the picture was definitely dim. It was then that I decided that I was going to get myself a nice flat panel TV.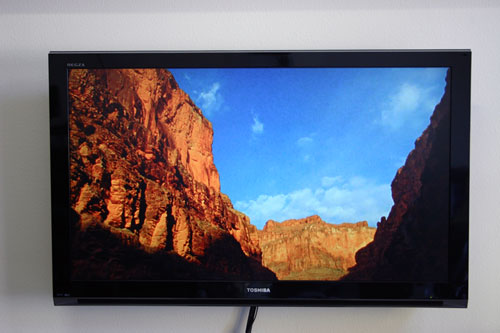 I was trying to keep my budget under a thousand dollars and was hoping to keep that closer to seven hundred. I did tons of shopping around and watched deals for weeks. I was really hoping to get a 46″ TV but I was afraid I was going to end up with a 42″. I had a couple criteria as well, the TV had to have HDMI and be 1080P. Anyway, I was watching the deal sites like a hawk and then I saw an ad on TigerDirect.com
for the Toshiba 52HL167, which is a 52″ model, for $999.96. I have a 32″ Toshiba TV in my bedroom that I've been very happy with, I did some quick searching around on the net for the Toshiba 52HL167 and it had generally favorable reviews. While I was expecting to get a 46″ or a 42″ TV I was really hoping to find something at least 50″ as I thought that was around the sweet spot for size considering my seating position, I just really didn't think I'd find one in my budget. So, when I saw the Toshiba 52HL167 for under a grand I jumped on it.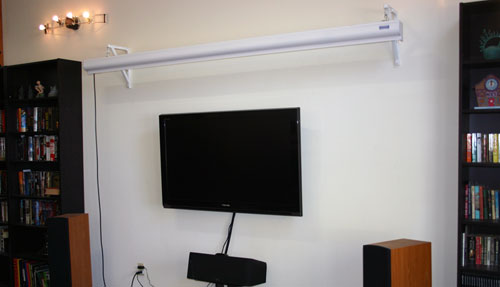 I've been very happy with my Toshiba 52HL167, I think it puts out a great picture. Sure it's not 120hz, but that hasn't been an issue for me at all for either movies or games. It's really nice having a "little" TV, it's great for when I just want to have a TV on in the background, check something really quick, watch TV during the day, etc. I actually find myself watching it quite a bit, even when it's dark enough to be using the projector. The projector always gets used for my favorite TV shows and movies but if I am just milling about watching TV at night often times I am just watching the TV.
Toshiba 52HL167 LCD TV Specifications
Key Features
Screen Size: 52 in.
Television Technology: LCD
Supported Resolution: 1080p
Supported Standards: HDMI
Form Factor: Widescreen
HDMI Type: HDMI Type A
Connector Types: Audio line-in, Audio line-out, Composite video/audio input, VGA input, Digital audio output (optical), HD component input, HDMI, S-Video input
TV Standard: HDTV
Sound Supported: Stereo
PC Compatible: Yes
HDTV Ready: Yes
Depth: 5.1 in.
Height: 31.2 in.
Width: 50.4 in.
Display Features
Aspect Ratio: 16:9
Display Resolution: 1920 x 1080
Widescreen Modes: Conventional 4:3, 16:9
Tuner Features
TV Tuner Type: Yes
Picture In Picture: Yes
Picture in Picture Type: POP
Audio Features
Audio Format Supported: Stereo
Additional Features
HDMI: Yes
Additional Features: Colorstream Component Video Input, Channel Labeling, Video Noise Reduction, Cinespeed, Ce-link, Dynalight, Colorburst, Pixelpure3g, On-screen Menu
Accessories
Remote Control: Universal remote control
Connectors
Connectors: Audio line-in, Audio line-out, Composite video/audio input, VGA input, Digital audio output (optical), HD component input, HDMI, S-Video input
HDMI: 3 x HDMI ( 19 pin HDMI Type A ) – rear
S-Video Connectors: 1 x S-Video input ( 4 pin mini-DIN ) – rear
RCA Connectors:1 x composite video/audio input ( RCA phono x 3 ) – rear, 3 x audio line-in ( RCA phono x 2 ) – rear, 1 x audio line-out ( RCA phono x 2 ) – rear, 1 x composite video/audio input ( RCA phono x 3 ) – side
Component Connectors: 2 x HD component input ( RCA phono x 3 ) – rear
Digital Optical Connectors: 1 x digital audio output (optical) ( TOSLINK ) – rear
Other Connectors Total (Free) / Type: 3 x HDMI ( 19 pin HDMI Type A ) – rear, 1 x VGA input ( 15 pin HD D-Sub (HD-15) ) – rear, 1 x digital audio output (optical) ( TOSLINK ) – rear
General Product Info
Exterior Color: Gloss black
Television Type:LCD TV
Weight: 89.7 lbs.
Dimension: 31.2 in. x 50.4 in. x 5.1 in.(HxWxD)