When I moved into my new place my G70 just wasn't going to work for me any more. I was sick of having the big ol' CRT projector taking up the best seat in the house due to it's floor mounting and ceiling mounting just wasn't an option with my sixteen foot ceilings so I started looking for a digital projector. I knew that the projector that I bought had to be 1080P and had to have HDMI. When I started looking Mitsubishi was just releasing the HC5500 LCD projector, the successor to their very popular 4900, and the buzz about it was pretty high. Someone on the AVS forums got one early and posted a few screen shots from theirs and the picture quality was very impressive so I decided to take a chance and ordered one for myself.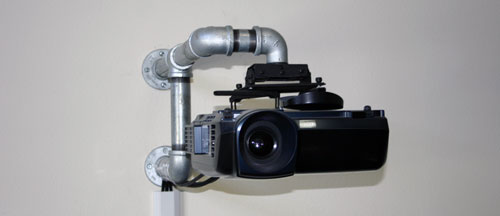 When I first got the projector home I was a bit worried, I've been a pretty die hard fan of CRT projectors for a while now and my two previous digital projectors, a Sanyo PLV-60 and an Infocus X1, while good for what I was using them for just didn't stack up to my G70. I must say, after a quick setup or the 5500 I was extremely impressed. The picture looked great! One thing that immediately impressed me was the black levels. I put in the movie Cars
and near the beginning of the movie there is a scene where they are introducing "Lightning McQueen" and they show him set against a black background and I the blacks were nice and inky black. Now don't get me wrong, the black levels aren't as good as they were on the G70, this becomes readily evident on really dark movies. Watching a movie like The Descent
really shows the lack of true deep blacks on digital projector but the projector does a good enough job that it no longer bothers me. Compared to the G70 I do love the brightness, the ease of setup, the small size, the sharpness, the noise (more on that in a minute) all in all, the only thing I miss about the G70 is the true blacks.
One special thing to say about the Mitsubishi HC5500 is the noise. There flat out isn't any. The projector sits a couple feet above my head when I am watching a movie and I just do not hear it. I don't know how they do it but this projector is virtually silent.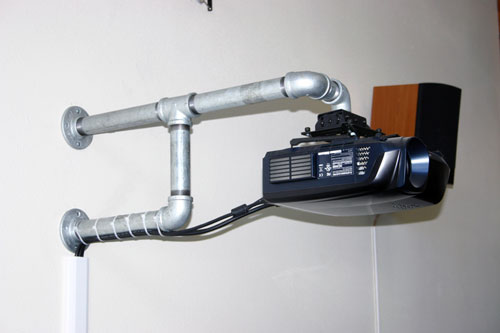 When it came to mount my HC5500 I knew I was going to be in for a challenge. With sixteen foot ceilings I knew I wasn't going to be able to do a ceiling mount which meant mounting it on the wall. I ordered myself Chief Manufacturing RPA-U Universal Projector Ceiling Mount and then I hit up Home Depot. I need to bring the projector about three feet away from the wall in order in order to get it the right size on my screen so at Home Depot I assembled together a series of pipes and fittings to do just that. I am really happy with the way it turned out, it looks a bit industrial but I think it works well in my loft. It's also rock solid so I have no worries about it failing.
Overall I've been extremely happy with my Mitsubishi HC5500 LCD Projector. Compared to the G70 which it replaced it has it's pros and cons but overall I, as much as I hate to admit it, I prefer the HC5500. If you're in the market for a 1080P projector I can heartily recommend the the Mitsubishi HC5500, it's a great little projector and the price doesn't hurt the wallet too badly.
Mitsubishi HC5500 LCD Projector Specifications
ANSI lumens: 1200
Contrast (full on/off): 14,000:1
Light Engine: 1920×1080, native 16:9, 0.74″ three-panel inorganic LCD, Micro Lens, with 160W UHP lamp.
Video Compatibility: 1080p/60/50/24, 1080i, 720p, 576p, 576i, 480p, 480i.
Data Compatibility: Computer resolutions up to UXGA 1600×1200
Connection Panel: Two HDMI v. 1.3, one 15-pin VGA, one 3-RCA component input, one s-video, one composite, one 12V trigger, one 9-pin DSub serial port.
Lens and Throw Distance: 1.2:1 power zoom/focus lens with vertical powered lens shift. Throws a 120″ diagonal 16:9 image from 12.5 to 15.25 feet
Lamp Life: 2,000 hours, 5,000 hours in eco-mode
Warranty: Two years. Lamp warranty One Year or 500 hours, whichever comes first.