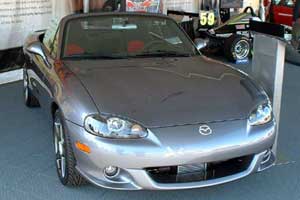 On March 6, 2004 Mazda came to the San Francisco Bay Area and held an event called Rev It Up. At this event they held a driving competition which I didn't partake in (it was essentially an autocross, and everyone was driving Mazda 3's), they also had go-karts, an interactive station with X-box's, free prizes, and you could test drive many of the Mazda cars, including the Mazdaspeed Miata turbo (which was my sole reason for going).
The Mazdaspeed is only available in two colors, Velocity Red and Titanium Gray Metallic; they had both colors on display. The exterior styling changes are very subtle. Bigger 17″ five spoke wheels, slightly lower stance, front and rear spoilers (upper and lower), smoke colored headlights, silver-painted brake calipers and Mazdaspeed badges are the only external changes that I noticed. The interior is very similar to my 2001. Differences include red stitching on the leather seats, shift knob, steering wheel, and emergency brake. On cars equiped with the cloth interior the seats have red inserts as do the doors. The car also comes with Mazdaspeed scuff plates on the door sills (a very nice touch), metal pedals with the Mazdaspeed logo (another nice touch), silver faced gauges, silver colored radio facia, door handles and vent rings, and a body-colored rear view mirror. Another difference between my 2001 and the Mazdaspeed is the windblocker which now includes small speakers for some extra droptop volume (I like my solution better). Under the hood cosmetic changes are a very nice red crinkled finish valve cover and a polished Mazdaspeed oil cap. Of course the important changes are also under the hood and of course I am referring to the turbo. The turbocharged engine is putting out 178 horsepower at 6000rpm and 166ft/lb of torque at 4500rpm. This is accomplished by a ball-bearing single-scroll turbocharger with 7.25 psi maximum boost and an air-to-air intercooler. The six-speed manual transmission, clutch and pressure plate, driveshaft and differential all have been beefed up for the extra power. All in all it makes for a very nice looking car.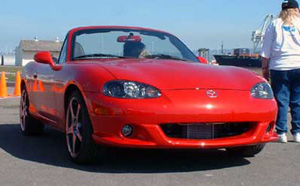 For the test drive we got to drive the Velocity Red Mazdaspeed with leather interior. The test area was set up like a long gentle autocross, essentially a big parking lot with a cone track. We weren't allowed to push the cars too far, as one guy did and I think was thrown out, but it was enough to get a pretty good idea about the car. So, after waiting in line for about half an hour, I finally got my chance.
The course started off with about an 1/8th of a mile straight, so you get to drop the hammer right away. The Mazdaspeed's extra power is a very nice addition to an already great car. It doesn't transform the Miata into a rocketship – it just ups the fun factor. I almost feel like it is the perfect amount of power, granted my time with the car was limited and I didn't really even get into third gear, but the cars power somehow just felt right; it still felt very much like a Miata, just with the amount of power that I always felt the car deserved. It revs very fast (I hit the limiter on my first run, kinda snuck up on me) and the lag is minimal but noticeable. This was my first time driving a six-speed Miata; it felt great. It didn't crunch like mine does a little and had the trademark Miata snickety-snick feel. Not sure how I would like it compared to my five speed; I would need to spend some more time with it. The new Mazdaspeed suspension tweaks made the car feel a little different from my 2001 sport. I am not sure if I liked the change. The car seemed a little more floaty; it may be because of the extra weight of the Mazdaspeed or possibly it is because of my rollbar, but the car just seemed different than mine. Now don't get me wrong, the car handled great and it all could have just been that the car felt different to me and that is why am I second guessing the Mazdaspeed changes. I would really like to spend some quality time with this car to get a better evaluation of it. I would love to see what this car is like on the freeway, and I'd love to have been able to accelerate from a standstill through third gear.
Am I going to get one? Unfortunately no. I only have a year left of payments on my 2001 and I am going to enjoy not having to make those monthly payments. I am also saving up to buy a house. If I made more money, I would be very, very tempted to pick up a Titanium with the cloth interior. I really think Mazda has hit a homerun with this car; I would love to spend some more time with one. In fact Mazda is doing the Rev It Up event again tomorrow, and I may go back for a second taste.
Of course I took a bunch of pictures for you all, here ya go.