Rating: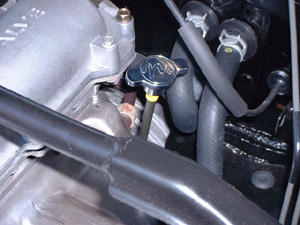 Pros: Looks cool.
Cons: Irreversible.
**Update**It appears that MGW has stopped making Miata parts. I don't know why. Miata owners must not have been doing enough business with them to make it worth it. It's to bad, I really liked their Miata accessories.
I bought the dipstick handle from MGW just to add a little spice to my engine compartment. I eventually want to add some more shine under the hood as well. You have to make your Miata look good all over right?
Installation is easy, but you have to destroy your stock dipstick handle. All you have to do is cut off the yellow loop on the stock one and then slip the MGW one over the stub; it stays in place with a set screw.
All in all, a very basic but nice Miata accessory.