I am no longer selling this subwoofer box. I broke the mold and can no longer produce them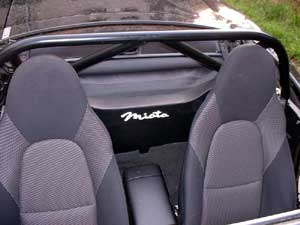 Putting bass in a Miata has always been a problem. There have been several solutions over the years, some better than others. I think mine is one of the best. I will admit to one fault right away though, there is a loss of seat travel; this is not a problem for me though because I wasn't using the travel anyway. To get an idea of how much seat travel is lost take a look at these two pictures which show the box in relation to the seat belt towers. Picture 1, Picture 2.
This project took me about four months to complete and more money then I care to admit to, but in the end it was all worth it. The box is primarily constructed out of fiberglass, the only wood part is the front face that holds the speakers themselves. I have had a ton of emails asking me how I did it so here it goes.
First things first, if you don't know how to work with fiberglass and want to learn, I suggest buying the book Fiberglass & Composite Materials
. This book is very well written, not overly technical, and packed with useful information. Another resource that I found to be of great help for fiberglass and car stereo stuff in general was the Carsound forum. Doing a search in the "Matt Borgardt on Fabrication" section on fiberglass will give you a couple days' worth of reading. I found that most of the questions I had while constructing the box could be found by searching the archives; and if I didn't find the answer from a search, I would usually get a good answer by posting a question of my own.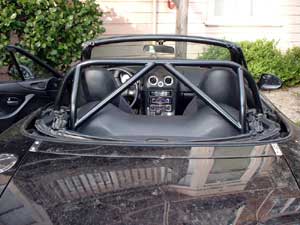 All right, after you know how to use fiberglass you can get started.
What I did first was to remove everything behind the seats (carpet, rear deck, etc). Then I laid tin foil and clear packing tape down all over the places that I was going to put fiberglass down (fiberglass doesn't stick to the tape or foil). I then laid the fiberglass directly in the car and let it dry. This gave me the contour around the gas tank and the rear shelf area; this piece serves as the bottom part of my enclosure. Next I took some MDF and cut out the shape that would be the front of my box. I attached the MDF to the bottom fiberglass part using screws. Now I had to make the shape for the top of the box. I went and bought a bunch of styrofoam (which is surprisingly expensive) and attached it to the MDF spanning across the fiberglass section.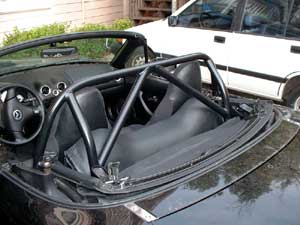 I then used a carving knife and sandpaper and shaped the Styrofoam to the desired shape. Next I covered the Styrofoam with tin foil and packing tape (fiberglass resin will eat Styrofoam real quick) and laid up fiberglass over the foam. After the fiberglass was dry I spent a long time applying bondo and sanding down the fiberglass to make it perfectly smooth. After the sanding was done, I pretty much had a complete box. I took it one step further though.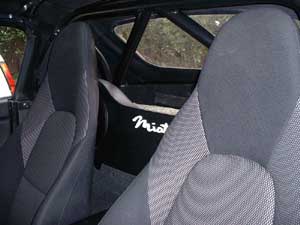 Now I had a completely smooth finished piece which I used as a plug to make a mold. I am not going to discuss the mold making process; but if you really want to know how, feel free to contact me and I can give you some pointers. Now that I have a mold made, I can make copies of the box whenever I want.
*UPDATE: I AM NO LONGER SELLING THESE BOXES, I BROKE THE MOLD AND CAN NO LONGER PRODUCE THEM* I do want to sell copies of the box; so, if you are interested, please send me an email. I am selling complete boxes covered in your choice of colored vinyl, with all the mounting hardware, and the Miata script (optional) for $400, this price does not include the speakers.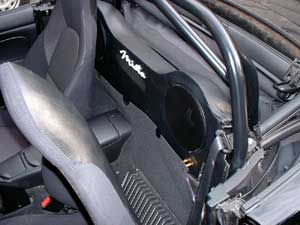 If you think this is high, realize that there is about a hundred dollars worth of materials in each box and it takes me about five days to make one. In comparison the JL Audio stealth box runs around $700, but it does come with speakers.
Just a few more things that I forgot to mention earlier, the box sounds fantastic I do not have "hear it ten blocks away" kind of bass, it is more tight and what I call musical, it does hit pretty low and hard though. The box has an approximate volume of .8 cubic feet and I am running two JL audio 8W3 Subwoofers in it. The box is filled with polyfill as well.
Here are a few pictures of a tan box that I made for someone.
Tan box 1
Tan box 2
Tan box 3
Tan box 4