Rating: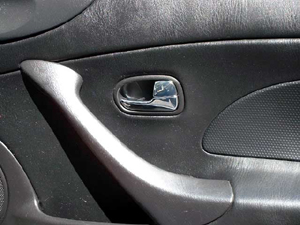 Pros: Look greats
Cons: To much fiddling to make them work right. Not a direct bolt in swap.
This little Miata accessory I bought from Brainstorm to replace the stock black ones that the base Miata comes with. Since I was going for a black and chrome look for my Miata, I figured these would be perfect; and since the LS model Mazda Miata's come with these stock, I figured they would be a direct swap. I was wrong.
Now I don't know if the problem that I had has been fixed; but what happened with me is the stock pieces have a groove in them that the wire that pulls the latch mechanism sits into. This keeps everything nice and taut and working properly. Now with these after market ones, there is no groove so the wire has too much slack. This slack causes them to not work properly. When I first installed them, I jury rigged it so that it stayed taut; but after about a month, they loosened up and I had to open my doors from the outside (PITA). I lived with it like this for a couple months because I was being lazy. I finally went back in and using gratuitous amounts of tape I was able to get everything to work properly, and it has been that way for several months now.
This problem may have been fixed by now, but I was very disappointed with the product because of this, which is why I gave it the low rating. I must say though that I really do love the way they look, and now that everything seems to be fine, I am really enjoying them (well as much as one can enjoy an accessory like this). If the installation had been a clean swap, this would have gotten a full five star rating.