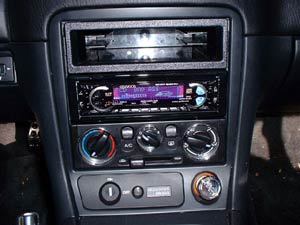 My stereo consists of:
Kenwood eXcelon KDC-X717 head unit
Rockford Fosgate Punch Power 800 4-Channel amplifier
JL Audio XR650-CS 6 1/2 component speakers
Two JL Audio 8W3 D-6 Subwoofers
Trying to get studio quality sound and imaging in a Miata is pretty much an exercise in futility so I went for nice loud, clear music that I can enjoy on the freeway with the top down. I am happy to report that I have succeeded. I am very pleased with my entire system; the only thing that I want to add is a Kenwood CD changer in the trunk. I may, somewhere down the road, replace the head unit with an mp3 capable deck.
I installed the Kenwood receiver in the bottom half of the stock double din location. In the top half I have a cubby hole which is very nice, every bit of storage room in a Miata is always a blessing. The JL component speakers are in the factory door locations. My car did not come with tweeters from the factory, but the door panel still has the tweeter grills in it so I put the tweeters there.
I did have to fabricate a way to mount them but that was easily accomplished. The mids in the doors are not a direct drop in either; I had to make an MDF ring that mounted to the original location. Again this is easy, next time I have the door panels off I will take some pics. I have my amp behind the driver's seat, not the most secure place but I am not willing to lose any trunk space if I don't have to.
I am giving my Subwoofer a page of its own because it's that special take a look over here
An aftermarket stereo is a great Miata accessory. There is nothing better than going for a drive on a nice sunny day on your favorite twisty road while listening to some great tunes. Definitely puts a smile on this Miata drivers face.