So you want to know how to make Chrome text in Photoshop? It is easy and I will show you how. First of all make a new image 600X600 with a black background with some white text on it, once you have the text the way you want it rasterize the layer (right click the text layer in the layers palette and choose Rasterize Layer). Then duplicate the text layer so you have two layers with the letters on it.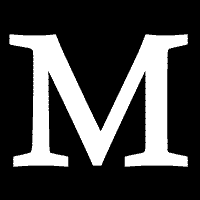 Control click on one of the layers with the letters to bring up its selection. Then go to your channels menu and save the selection as a new channel. Working on the newly created channel (Alpha 1) with the selection still active do a series of Gaussian blurs starting at 16 then 8,4,2 and finally one.
Now go back to your layers palette, working on the top layer go to your lightening effects (filters/render/lighting effects) I used the settings that you see below.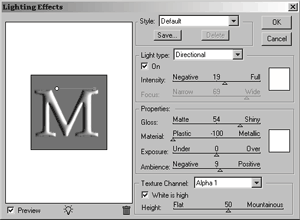 After the lightening effects your image will look like this. As you can see lighting effects is a great tool in Photoshop, thanks Adobe.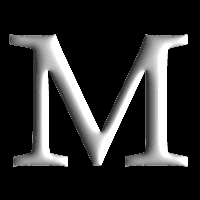 You will notice that after the lightening effects the image looks a little rough. We can fix that, just do a Gaussian blur of 2 pixels over it to smooth it out. You may not notice a difference here but trust me you will when you do it.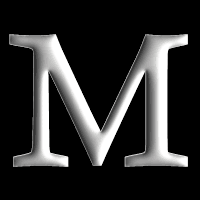 Still working on the top layer, we are going to adjust the curves to start to give the image its chrome look. Set your curves to the settings shown below.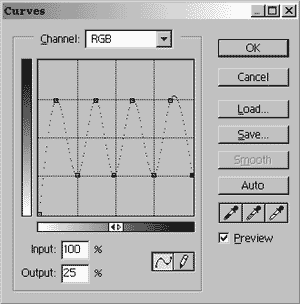 After you have adjusted your curves your image will look like the one below. Which looks pretty cool, but I like it better after the last step.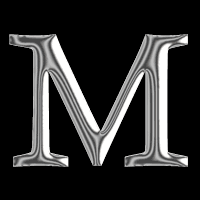 The last thing to do is add the plastic wrap. You can find the plastic wrap filter under filters/artistic/plastic wrap. Set all the levels to their maximum.That is all for this Photoshop tutorial folks. Any questions, comments or feedback fill out the form below.