I wasn't always into computer art. I went to San Diego State University (Go Aztecs!!!) and there I studied applied design with an emphasis on metal. I studied under the all knowing Helen Shirk and the always stoic Arlene Fisch. My plans were to go to grad school and get my masters, but money, time, money, time and money kinda got in the way. So for now that part of my life is in on hold but I thought that I would share some of the stuff that I've done with the world, so here it is. (please excuse the quality of some of these pictures, my scanner is great for photos but not so hot on scanning slides)
A copper tea pot, approxiametly eight inches tall. The main body of this pot was raised from a flat sheet of 18 gauge copper. The spout is constructed from a piece of copper tubing that was hammered into shape. The handle on the piece is actually taken from another one of my pieces that you will see later in my gallery. Finally, the finish on the piece is a patina.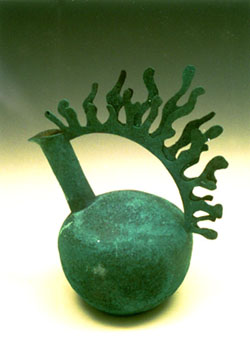 This piece is an abstract comb. The main construction was with silver wire to make up the face. The flames on the crown are made from silver sheet. The piece has a total of eight stones, four on each side. It is about eight inches in height.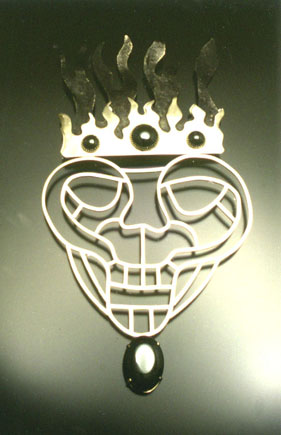 Here is a set of candle holders. They are both constructed out of a single sheet of copper. The process to do these is called piercing. It is a very long and tedious process in which you break many many saw blades but the end result is always worth it. The finish on both pieces is a patina. When lit these pieces produce some very cool shadows. If you didn't notice the handle from the copper pot up top was taken from one of these.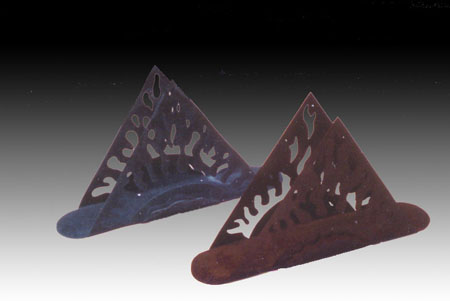 This is not one of my favorite pieces but it turned out ok. Its a cigarette case. There are several techniques used to make this piece. The main shape was done with a process called die forming. With die forming you use a hydraulic press to press the metal into a form that you have cut out in plastic. Its a very cool process and I did some neat stuff with it. The pattern on the body of the case is a process called solder inlay which was one of my favorite techniques. It's another long and tedious process but the results are always worth it.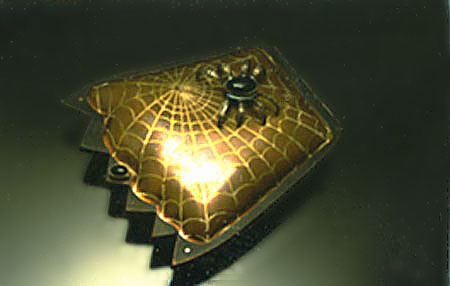 This was the very first piece that I did in my metals classes. It's a jewelery box about five inches across. The scales on the snake are another example of solder inlay. After finishing this piece I was certain that metals was going to be my major.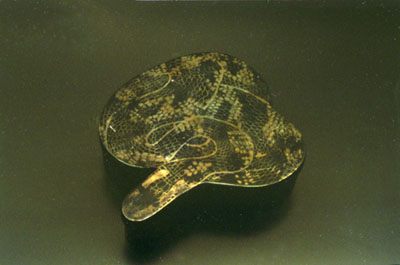 This is another shot of the same piece above. I never was very happy with the jewelery that was inside the box, but I'll let you all see it anyway.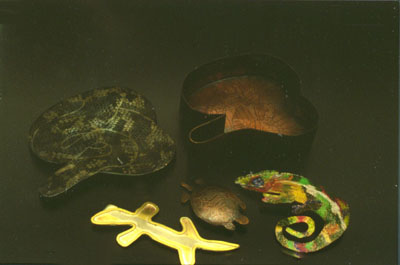 This ring was a serious pain in the ass to make. If there is one thing that I've found in life it's simple doesn't mean easy. Soldering the pieces together was the hard part. Trying not to melt the silver and keep the angles straight was a nightmare. When all was said and done I was very happy with the final piece.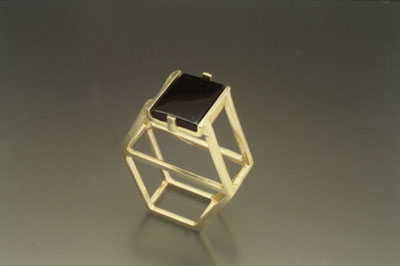 This is one of the very few pieces that I ever did in steel. This sun is about 3 feet in diameter and was surprisingly easy to make. It is currently hanging above the staircase at my Mom's house.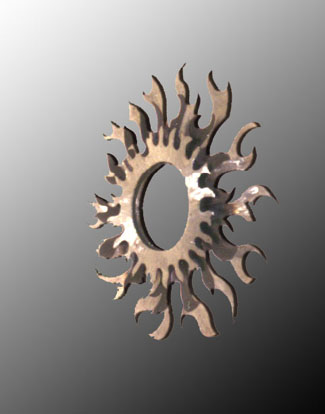 This was made as a present for my Mom. It is a silver tea strainer and one of my favorite pieces that I ever made. It is fairly small about four inches tall and turned out just the way that I wanted it.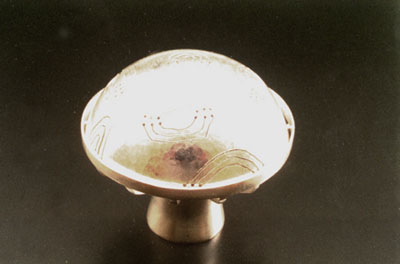 Here is the tea strainer shown in it's open position. The handle sits inside of the stem when the piece is closed.