HDTV, it's the wave of the future right? So why not add it to your HTPC? There are several HDTV cards available for HTPC's, I went with the MyHD MDP-100. They now have a new card out, the MyHD MDP-120, but mine is the older model. The newer model was out when I picked up my card but I found a good deal on a used card so I jumped on it. The biggest differences between the two cards is that the MDP-120 has a slightly more sensitive tuner and has the ability to have DVI out via a daughter card. I live close enough to the main HDTV antenna in my area that I didn't really need any more sensitivity and my projector doesn't accept DVI so there was no real need for me to go for the newer, more expensive card. I already had a standalone HDTV receiver, it was the Zenith HDV420 and it worked great, but I wanted the ability to record HDTV and also I wanted to consolidate as much as I could. So by replacing the Zenith HDV420 with the MyHD MDP-100 I was able to free up more room in my rack and record HDTV.
The MyHD MDP-100 has been a great card for me. I don't watch a whole lot of TV and I can get a lot of HDTV programing via my cable box so this card doesn't see a whole lot of use. Comcast in my area doesn't offer CBS in HDTV and I am a big fan of CSI so while CSI is on the air this card gets used every Thursday. The video quality on the card is fantastic, equally as good as my old stand alone box and I love being able to record HDTV (I still have the Janet Jackson "wardrobe malfunction" recorded). So even though it doesn't see a whole lot of use I still love having it. It's great for Thursday nights and also for special events that are broadcast in HDTV like the superbowl and the Oscars.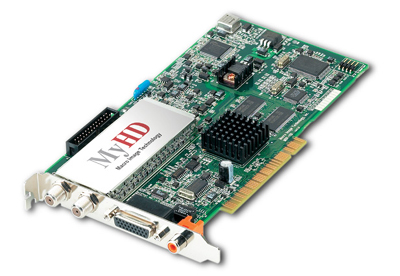 When setting up the MyHD MDP-100 you have a couple of options. The easiest way, from a day to day usage point of view, is to run the video out from your main video card into the pass through on the MyHD card and then from the MyHD card to your TV. This way everything coming out of the HTPC is transmitted from the same place. I did not go this route though. Since I am using the a MP-1 one modified video card I didn't want to run the output from that card back into the MyHD card possibly lowering the quality. So what I have done is run one cable from my primary video card to my projector and then a second cable from the MyHD card to my projector. From a usage point of you this makes it a touch more complicated because when I want to watch HDTV or a laserdisc (I'll explain why laserdisc in a minute) I have to switch the input on the TV. In practice this is really isn't a big deal to me at all though because I have just programmed macros in Netremote so all I have to do is press one button on my remote and it takes care of the rest.
Now if I confused you when I mentioned playing a laserdisc in the last paragraph let me clarify. With the MyHD card you can also run external devices through it and use the MyHD card as a scaler which is exactly what I am doing with my laserdisc player. I run the S-Video out from my laserdisc player into the S-video in on the MyHD card, choose the appropriate input in the MyHD software and presto, my laserdiscs are being scaled up to HDTV resolutions. This helps a lot, my laserdiscs look great. I have it setup so that it scales everything to 720P.
You can also use the MyHD card like a VCR to record a show at a predertimend time which is nice. I have recorded several shows when I knew I was not going to be home to watch them and I still get to watch them in all their HDTV quality. Recording HDTV can eat up hard drive space quickly though. Recording HDTV requires about 8.7GB per hour so make sure you have plenty of hard drive space.
MyHD MDP-100 HDTV Tuner Card Specs
Processors
TeraLogic Janus Decoder
Nxt2000 HDTV Receiver/Demodulator
Input Connections
2x Coax Antenna/Cable "F" Connectors
S-Video and Composite NTSC
Analog 2-channel audio
Breakout cable for VGA loop-back
Output Connections
15-pin D-Sub VGA Connector
Component (Y-Pb-Pr with optional cable)
S/PDIF Digital Coax (RCA)
Analog 2 channel L+R Stereo
De-multiplexer
MPEG-2 Transport Steam
Max. 40 Mbps
Controls up to 32 PID
Video Algorithm
MPEG-2 Main Profile @ High Level (HDTV)
MPEG-2 Main Profile @ Main Level (SDTV)
Frame Buffer Memory
16Mbytes
Minimum System Requirements
Pentium II 400MHz or faster processor
64MB or RAM
Windows 98 SE, ME, 2000, and XP
Interface
PCI bus v2.2 compliant
33MHz or 66MHz operation
DTV Resolutions
720x480p
864×480
800x600p
1024x768p
1280x720p
1280x1024p
1360x768p
1440x1080i
1920x1080i
Supports 4:3 or 16:9
Package Contents
Infrared Remote
Control (Serial Port)
Pass-thru/input cable