In order to free myself from the keyboard and mouse as much as possible I wanted a good remote control solution for my HTPC. I found that solution in a program called Netremote. But in order for Netremote to do everything that I wanted I needed a couple of other things. One of the main things I needed was something to handle the infared duties for the remote controlled devices that are not in my PC (the projector, the pre-amp, laserdisc player etc.), enter the USB-UIRT (UIRT stands for Universal Infrared Receiver Transmitter).
If you are not clear on exactly what the USB-UIRT does let me try and clarify. Using the USB-UIRT with automation software such as Girder and Netremote allows your computer to receive and transmit infared singles. Infared is what almost all consumer electronic devices use such as your VCR, TV, DVD player etc. This ability allows your computer to react when you press play on your DVD remote control, for example. With the USB-UIRT you can also learn remote codes from your collection of remotes and then transmit these codes from your computer. This essentially turns your USB-UIRT and computer into a universal remote control. With the USB-UIRT you can also download remote codes from the web (from sites such as www.remotecentral.com so you can control all of your equipment that is equipped with an IR receiver. This includes discreet codes which are not found on your normal remote. Discreet codes include codes such as power on or power off (instead of just having one button labeled power). Another example of a discreet code would be a code to change your TV to Input 3 which would automatically switch your TV to input 3 rather than cycling through all the inputs.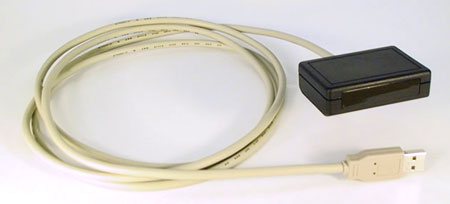 Setting up the USB-UIRT is a breeze, just plug it into an available USB slot and install the drivers and you are good to go. Now getting all the Girder stuff to work on the other hand isn't as easy, but that is a topic for a different page. I have had zero problems with my USB-UIRT, it has been rock solid and given me no headaches. For the price of the USB-UIRT, $55, I feel it is worth it's weight in gold.
I should also note that Sage has built in native support for the USB-UIRT which allows Sage to change the channel of your cable box. This was a very nice feature for me since it saved me a lot of work in Girder and Girder tends to give me a headache.
In summary, with the USB-UIRT, I am able to control every remote controlled device in my home theater via my PC. The components that makes this possible is the USB-UIRT, Girder and Netremote. Pretty cool to say the least.
USB-UIRT Features
IR Reception
34-40KHz Frequency Range
*56KHz IR Receiver Add-On Option*
UIR-compatible Receiver Mode
>8 Meter Sensitivity
IR Wavelength Filtered
USB Wake-from-Standby Capability
Built-in wideband IR detector for accurate Learning, including carrier frequency.
USB Wake-from-Standby Capability

IR Transmission

20-60KHz Frequency Range
Two (2) built-in High-Power Emitters
1/8″ Mini-Jack for External Emitters
UIRT-compatible Struct and Raw modes
Extended-length code support in hardware (up to 96burst-pairs)
Max-length burst code support in driver (up to 2048 burst-pairs)

USB Interface

Fully Plug-and-Play
Driver Support for Win98, WinME, Win2K, and WinXP
USB-powered

Software

Girder (3.2 or higher) Plugin
Developer API for simple integration into other products
Flash-Upgradable Firmware

Dimensions

2.4″W x 1.5″D x 0.7″H
USB-UIRT Links
USB-UIRT Home page
USB-UIRT User Forum