With the advent of Tivo I knew I wanted that functionality as well. While I don't watch a lot of TV I do like the ability to have a season pass to a show that I do like and I like the ease of recording something interesting and not having to deal with tapes and all the other hassles that VCRs come with. Another great advantage of an HTPC is the ability to use Tivo like software. There are a couple to choose from, I personally went with a program called Sage. The version of Sage that I got came bundled with the Hauppauge PVR-250 TV Tuner Card which is the focus of this page.
I will discuss the software side of this bundle on the Sage page. The Hauppauge PVR-250 is a PCI card that is easily installed in any of your free PCI slots. Installation of the card was a snap. Just snap the card into an available PCI slot, boot the computer back up and install the driver and I was sailing. The card has been very stable for me, I haven't had any issues with it at all.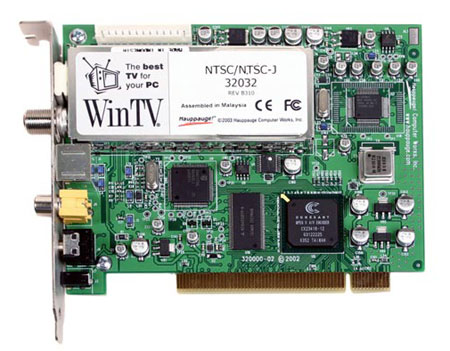 The combination of the Sage and the Hauppauge PVR-250 allows me to pause live TV, time-shift TV and record TV my hard drive. It's a very nice bundle.
Technically speaking the Hauppauge PVR-250 has a integrated MPEG-1/2 hardware encoder as well as a video digitizer. The benefit of having a hardware encoder is that it does all the encoding on the card sparing your CPU's performance for other tasks. Many other cards, including the ATI All-In-Wonder cards use software to encode the incoming signal into a format the computer can use. By using software instead of hardware to do the encoding the computer must rely on it's CPU and memory, this often results in decreased performance and sometimes poor quality. I notice little to no performance issues when my HTPC is recording something thanks to the onboard hardware decoder. Onboard analog connectors allow you to not only watch, record and pause TV, but they allow you to record from other sources such as VCRs and camcorders. The encoded MPEG-2 video is sent over the PCI bus, where it is stored on the PCs hard disk. The PVR-250 also features a coax, S-Video and composite inputs as well as a infared remote which I don't happen to be using, Netremote handles all my remote needs.
Hauppauge PVR-250 Specs
General
125 channel cable ready TV tuner
Composite/s-video input to connect to VCR or camcorders
High quality MPEG1/MPEG2 video and audio encoder
dbx-TV stereo decoder (Nicam stereo decoder in Europe)
IR remote control

Recording

MPEG1 recording at 1150K bits/sec (Video CD data rate)
MPEG2 record datarates:
2MBit/sec, 4MBit/sec, 6Mbit/sec, 8Mbit/sec, 12Mbit/sec.
Selections for DVD Standard play (8MBitsec), DVD Long Play (4MBit/sec) and DVD Extra Long Play (2MBit/sec)
NTSC format* at 29.97fps: Full D1: 720×480, MPEG1: 352×240
PAL format* at 25fps: Full D1: 720×576, MPEG1: 352×288
Audio capture formats: 32/44.1/48 KHz, 16bit stereo, 192/224/384Kbits/sec
Chroma sampling: YUV 4:2:0
Video file format: .MPG
MPEG file tested compatible with: MediaStudio 6.0, MyDVD and DVD MovieFactory DVD authoring applications

System Requirements

Processor requirements:
Pentium® II processor 733MHz or faster for TV pause with full screen playback
Windows®98SE (Second Edition), Windows® Millennium Edition, Windows2000 and WindowsXP.
Free PCI slot
Sound card
DVD or CD-RW writer (optional for burning DVDs or Video CD's)
VGA card (PCI or AGP) which supports video overlay (NVidia, S3, ATI, etc.)