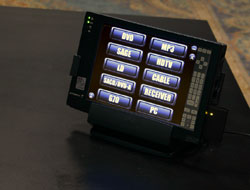 Netremote is one of the coolest aspects of my home theater. What it is is a computer program that allows you to control pretty much any aspect of your home theater via a touch screen device. I personally use it on my fujitsu table pc. It used to be a free program but is now a commercial product (I am actually still using the last free version of it). Netremote is produced by Promixis and can be found at their website. If you follow that link you will also notice that they sell Girder which, in my eyes, is needed if you are going with Netremote as your remote control solution for your home theater.
The beauty of Netremote is that it communicates via TCP/IP which allows for bidirectional communication between the remote and the HTPC, and since the commands are sent via TCP/IP there are no line of site issues, in fact I could control my home theater in another country if I wanted to. If that bidirectional line up there confused you, it basically means that I can send information from the remote to the HTPC and the HTPC can send information to the remote itself. So on the remote you can see the album cover of the currently playing song and the amount of time elapsed plus a whole slew of other information. You can even set it up so that it can tell you what TV channel you are watching, what chapter your DVD is on, the elapsed time of the DVD, the possibilities are endless.
I should note that you can't do all of this with Netremote alone, you need a few other components. You will need another program called Girder. I am not going to discuss Girder much here, it is a very complex program and I could write pages and pages on it. I will tell you more about Girder once I get the HTPC section of my site built. If you want to control non-computer components (such as your cable box, laserdisc player, etc.) via Netremote you will need something that can send IR commands. I personally use a USB-UIRT and It has been wonderful, never given me any problems and very minimal setup required.
One thing that I really like about Netremote is that it allows me to build and design my own skins. Netremote uses CCF files which were originally made for the popular line of Pronto remotes. Netremote comes bundled with a program called Tonto where you can design your own CCFs. Since I am pretty handy with Photoshop this appealed to me greatly. I have total freedom in the layout of my remote panels, putting the buttons exactly where I want them and custom designing macro commands so that the press of one button can do a whole slew of commands. I have it setup so one button press turns on the receiver, sets the receiver to the correct input, turns on the TV, turns on my switcher, puts the switcher on the right input, launches MyHD and switches the input on the TV. So with that one button press I can go from nothing to watching HDTV in a matter of seconds.
There is definitely a learning curve to both Netremote and Girder but you can find lots of help out on the net. Netremote has a great user forum where you can almost always get answers to your questions and Girder has a forum as well.
I cannot imagine my home theater without Netremote, it really ties everything together. And once you have it all setup the way you want it, it makes your home theater amazingly easy to operate. With one button press I can be watching a DVD, a couple more buttons presses and I can go from DVD viewing to HDTV. I really can't put to words how amazing the program is. If you are looking for a great solution to remote clutter and trying to get it so your significant other can actually watch a movie without your help I highly suggest checking Netremote out.
I have shown a couple of my Netremote screens up above, if you would like to see more of them here are some screenshots of the rest of my CCF.
Main screen
Theater Tek: Main Page
Theater Tek: Menu Page
Media Center: Main Page
Media Center: Browse Page
Media Center: Browse by cover: 15 Albums Covers
Media Center: Browse by cover: 35 Albums Covers
Media Center: Browse by cover: 70 Albums Covers
Sage TV: Main Page
Sage TV: Home Page
Sage TV: Search Page
MyHD: Main Page
MyHD: Playback Page
Laserdisc: Main
Laserdisc: RF Demodulator
Cable Box
SACD DVD-A
Receiver
Projector: Main
Projector: Setup
PC: Keyboard Mouse
Internet Browser
Netremote Downloads
My CCF
Girder GML that goes with the above CCF
Netremote Links
Netremote
Girder
USB-UIRT
eBay (great source to find an inexpensive tablet)