While I wanted to eliminate the keyboard and mouse as much as possible, but it still is nice to have one from time to time, especially when you are troubleshooting a problem or doing file maintence or just surfing the web. Since my HTPC sits in my rack a wired keyboard and mouse weren't going to cut it so I needed a good wireless solution. There are tons of different wireless keyboard and mice out there. I finally decided on a combination keyboard/mouse from LiteOn. The nice thing about this one is that it's fairly small and instead of having a separate mouse there is just a little joystick on the keyboard that works like a mouse. I wouldn't want to use this joystick mouse for any gaming or anything like that, but it works great for general mouse stuff.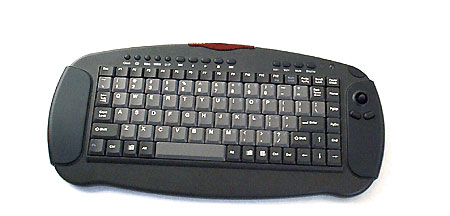 There are two components to the LiteOn Airboard, the keyboard and the receiver. The receiver just plugs into your PS2 ports like any other keyboard and mouse and then you just place the receiver in a convenient location. The range on this keyboard/mouse is fantastic. I have no issues sitting on my couch with the HTPC about 10-12 feet away (The range is suppossed to be 23 feet). Battery life is also outstanding, I haven't had to replace the batteries in over a year.
Not much else I can say about this keyboard/mouse combo. It works great, it's small, and does everything I need it to do. I have no complaints at all. If you need a simple solution for a wireless keyboard/mouse I highly reccomend it.
LiteOn Airboard Features
Wireless computer integrated text, pointing and multimedia device
89-key notebook size keyboard designed for Windows
Uses scissors technology key switch structure
Two mouse buttons and one DRAG key
Full range mouse control (click and drag capabilities)
Infrared transmitting technology
Up to 23 foot (7 meters) operating distance
Low power consumption (halt while not using)
Warn when battery power is low
Lightweight
FCC, UL, and CE compliant