Rating: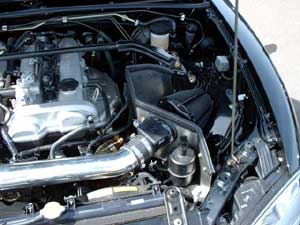 Pros: Excellent throttle response. Gives your Miata a nice growl sound.
Cons: I sometimes feel the sound is a little tiring.
When it came time for an intake for my Miata, I decided to go with the Monsterflow intake with the polished aluminum crossover tube and cold air box which I bought from Good-win Racing.
This is definitely not a big power gainer, but the added throttle response is very welcome. When combined with a header and exhaust, the power gains are very nice though.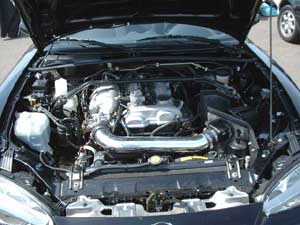 I have had a lot of people ask me if I think that the cold air box is worth the money. A friend of mine has a pyrometer (measures heat) so I decided to test the heat difference. We found that temps inside the box where at least 30 degrees cooler than the temps on the outside of the box. So in a nutshell, yes I think the cold air box is worth the money.
Unfortunately, at this time, I do not have install pics for the intake. I installed this while I was at Thunderhill doing a track day; while it was a perfect place to test the intake, it wasn't so great for taking my time and documenting the install. Maybe one of these days, if I am bored, I will reinstall it and take pics to put up here. The install is quite easy and can be done in less than an hour and is completely reversible.