Rating: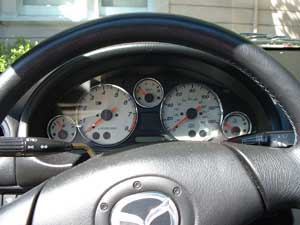 Pros: Look great, and finish what Mazda should have, why every Miata doesn't come with these is a mystery to me.
Cons: A little pricey for what they are and the shine could be better.
I bought these rings for my Miata from Brainstorm. At the time that I ordered them, they didn't list the three ring set (just the five ring set) on their web page. If they still don't, just call them and they can hook you up. The people are Brainstorm are great and they sell some really good Miata accessories.
For some unknown reason, Mazda sells the Miata with the chrome rings only around the speedometer and the tachometer; this simple mod was just to complete the look. Installation on these is a pain only because you have to remove the instrument cowl. In theory this is easy, it is just clipped into place; the problem is getting these clips to come off. You just have to keep on pulling as hard as you can and eventually it will let go. I have heard that this gets easier with practice. The instructions that come with them are fine which is why I didn't document the install.
Overall these are a great accessory. I really like the look that these give me, I just wish they were cheaper.