When I moved into my new place I knew that I was going to be getting myself a new screen. I absolutely loved my old High Power screen but it was showing it's age and was a bit beat up, I also wanted to go a bit bigger. I had been lusting after an electric screen for years, they are just so cool, but I really didn't think I was going to be able to afford one. As I searched for a new screen I was knew that I was going to get another Da-Lite High Power screen, I simply love this material, it worked great on with my G70 and it worked great with my Mitsubishi HC5500 it is well known not to show waves with pull down screens and it's just a great screen material.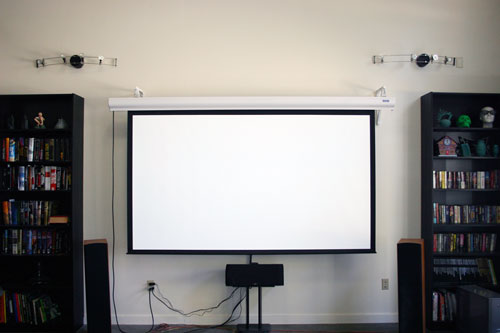 I did a ton of hunting on the net for a new screen and then I stumbled across a 106″ Da-Lite Designer Contour Electrol with the High Power material at Adorama for a price I couldn't believe of only $803.95, still a lot of money but for an electric screen a hell of a deal. After much debate about spending this much money on a screen I finally decided to spoil myself and pulled the trigger.
I had to figure out a way to hang the screen, I couldn't mount it directly onto the wall because the screen had to drop down in front of my 52″ Toshiba LCD TV. I have four large Ikea bookshelves flanking the area where the screen was going to be and I tried to figure out something that I could run between the top of the bookshelves to kind of make a wall unit of sorts but I just couldn't make it work. After tons of brainstorming trying to come up with something I ended up taking the easy way out and ordering the Da-Lite Number 11 14IN Extending Wall Brackets
from Amazon. They are very inexpensive, made to work with the screen and just get the job done with no fuss.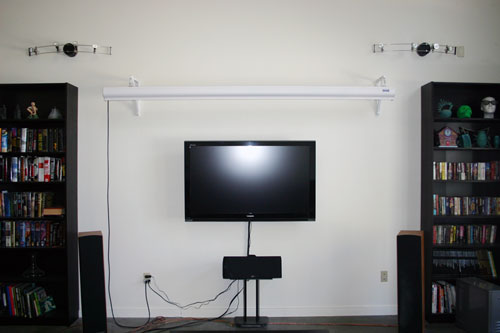 Hanging the screen was easy enough (once I found the studs in my wall), it is a two person job though so make sure you have a helper, my neighbor was nice enough to lend me a hand when it came time to hang the screen on the hangers. Once the screen was hung I couldn't wait to try it out. I quickly plugged it in and using the supplied remote pressed the down button. I watched with childlike glee as the screen dropped down in to place.
I have been super happy with my Da-Lite Contour Electrol and I am very happy that I spent the extra money on the electric pull down. I know that if I had gone with a manual pull down I'd get myself all situated and comfy in my chair and then realized that I still need to pull down the screen, or I'd be lazy and leave the screen down all the time and then it would end up getting damaged or smudged. With the electric and it's remote control capability I've programed my Harmony One remote so that when I press the "Watch a Movie" activity on the remote, the screen drops down and then when I turn everything off or switch to an activity on that doesn't use the projector via the Harmony One the screen goes back up. I love technology!