More rain, Taco Bell, Hachinohe and more weird food
More work for Scotty today and Susan had a bunch of errands she needed to run which left me by myself for most of the morning. I have taken to writing in the morning, getting these pages done while the events are still fresh in my mind so it was nice to have the morning to myself. I also did some laundry this morning and finished reading my book.
By the time 12:00 rolled around I was getting hungry. Now going out to eat here by yourself with zero Japanese language skills is a bit daunting. Very few places we have gone to have had any english on the menu. My plan was to either find a place that had english on the menu or go to a grocery store, which ever place I ran into first was getting my business. So I got myself ready, put on my ipod, grabbed my camera, checked the weather (which looked clear) and was just about to head out when Susan came back. Remember when I said Scott had himself a keeper? She thought I may be getting hungry so she brought me back some Taco Bell from base. Not only did she bring me back Taco Bell she even remembered a conversation that we had about the bell from a couple days prior and brought me back my favorites: Chicken Quesadilla and a soft taco. I am lucky that she did too. I didn't end up going out to get food obviously and shortly after I was done eating the yummy taco bell it started raining outside. So Susan saved me with my favorite taco bell and kept me from getting all wet, Susan rocks.
After lunched I just kind of relaxed around the house, watched some TV, surfed the net, took pictures of their house, which I will incorporate into one of the pages most likely, and waited for Scott to come home. We needed to go down to Hachinohe after he got off work so that we could pick up a low table for their tatami mat room which was currently my bedroom. So when Scott finally did get home, we did exactly that.
Driving here in Misawa is very different than driving in the states. I am not talking about driving on the other side of the road or on the right side of the car, what I am referring to is the speed in which you drive. Pretty much where ever you drive around here you are driving at less than 25 miles an hour. It's not because the speed limits are low or that there are lots of cops, in fact there are very few cops, I have seen two since I got here, and the cops always drive around with their lights on. You drive slow here because that is just what the conditions call for, the roads are narrow, there are lots of stops and there aren't really any main drags, just lots of little intertwining streets. That said, on the drive down to Hachinohe we actually got to go a bit faster, problem is, in Japan you have to pay for that privilege. Hachinohe is probably about 20 to 30 minutes south of Misawa and to get their we needed to take toll roads. I think each direction cost us about 350 yen, so about three bucks.
Hachinohe is a much larger city than Misawa, we got there when it was already dark so we were able to see the city lights and you could tell it was a fairly large place. On the way to the furniture store where we were picking up Scott's low table we passed several arcades and pachinko places which Scott says are just insane. I wanted to stop at one of them but we didn't, I will have to talk him into going to one before I leave.
Scott wasn't sure where the furniture store was, the last time he had been there someone else was doing the driving but we were able to find it with no problem. They had some cool stuff there. They had what was new to me, but we could very well have them in the US, what appeared to be a cross between a tempurpedic bed and a waterbed, like they through a temperpudic mattress in a bag and then filled the bag with water, it felt really comfy. They also had lots of cool looking traditional style furniture, lots of chest of drawers and the like. We didn't spend too much time looking around though. Scott had already picked out the low table that he wanted so we weren't going to be there long. I did snap a picture of this amazingly expensive low table set. The table itself cost 7,000,000 yen and the backdrop decoration thing in the back ground was an additional 5,000,000 yen. That is about 70,000 and 50,000 dollars respectively. Check it out though, it was pretty wild.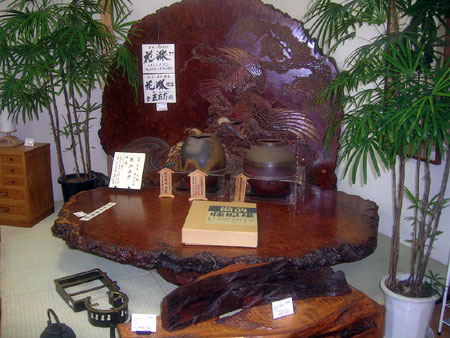 Scott had a bit of difficulty communicating with the people in the store but it all got worked out in the end. Scott is pretty sure that the stores computer was telling the woman how to say things in English because she would ask Scott a question in Japanese and Scott wouldn't have a clue as to what she was asking him and then she would go to her computer and then ask him a question in broken engrish. The process worked though, the low table is sitting in their house now. It was pretty funny, to get the table from the store to Scott's truck this little tiny Japanese just picked the thing up and carried it most of the way himself. We wanted to help and offered our help but they wouldn't take it. Below is a picture of their low table in their house.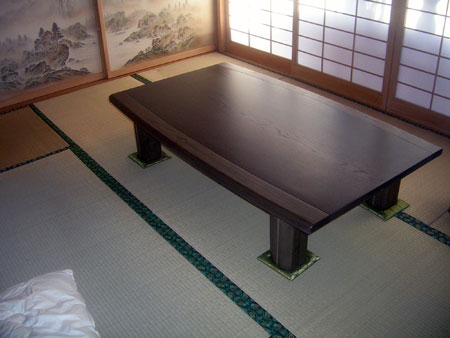 After our return from Hachinohe we just lounged about the house watching TV and whatnot until we were ready to go to dinner. We didn't really know where we were going for food, we had decided to try something new to them. So we went down to downtown Misawa and just started walking around until a place caught our eye. We found a very cool looking place that had an awesome collection of sake.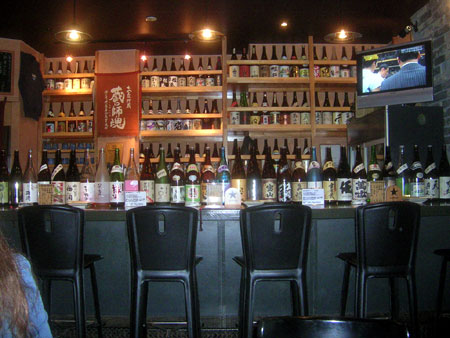 The problem with this place was that Scott and Susan had a hard time reading the menu. I am not exactly sure why that was the case but we were definitely having a bit of a crap shoot when it came time to order. We got some gyo-za (pot stickers) which were ok, we got some weird appetizer which I didn't particularly like (it was too fishy tasting due to the broth), we got an amazing pork dish thing and we got chicken knuckles. Surprisingly, chicken knuckles taste pretty good, the texture is horrendous as it's filled with cartilage hence extremely crunchy but the meat itself is really tasty. Scott and I ate it up, Susan passed. After eating what little we did their we decided to move on to a different place. We didn't feel like chancing their menu any more.
One thing before I move on to the next place. Scott ordered sake while we were at the place above and the Japanese have a really cool way of pouring sake. They place your glass in a masu (a wooden box) and then pour the sake into the glass until it overflows the glass and then fills up the masu, this is a sign of generosity by the restaurant owners.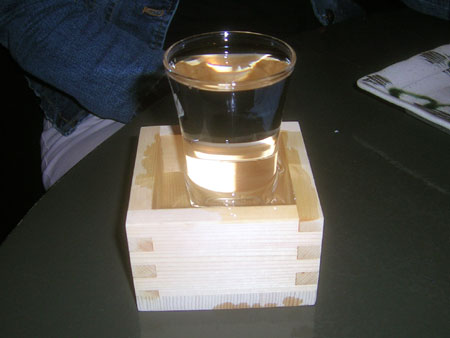 We ended up in an extremely smokey but pretty good tasting place. It wasn't very impressive looking at all, in fact it was pretty much a hole in the wall. But the food was good and Scott and Susan had no trouble reading the menu. The place was extremely smokey though, they were grilling the food inside and obviously didn't have enough ventilation, after awhile my eyes started to sting. Here are Scott and Susan waiting for our food.
On the way back we stopped at a liquor store. We needed some more Chuhai and I wanted to see if they had any cuban cigars. They did have cubans but they were pricey so I didn't pull the trigger, I may have to go back though. I just looked up the one that I had my eye on online and it appears to be an outstanding cigar, some reviews even say it is peerless so maybe I will throw down the 20-25 bucks for it. They had some more disgusting things that I want to share with you at the liquor store.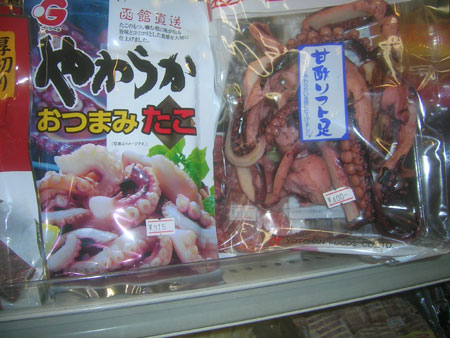 Squid on a stick anyone?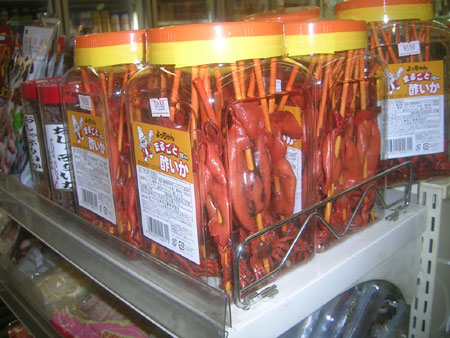 After that we went home, had a nightcap and went to bed.