Mexican food, yet another yummy dinner and a cuban cigar
Susan got some good news this morning, she finally landed herself a job. Due to not being a military wife she was having a really hard time finding work because the military wives get first dibs. She got the call this morning that she is going to be doing some work with little kids, sounds like a daycare type of thing. She isn't exactly thrilled about it but it's a start.
To celebrate getting work Susan decided to take me out to lunch. There is a mexican place on base and Scott isn't much of a fan of it so we went there. The food was good and I had been craving some mexican since I eat so much of it at home. It was a nice change of pace from all the Japanese cuisine we have been eating. Don't get me wrong, the Japanese food has been uniformly excellent but it was nice to get a different flavor for a change.
On our way to the mexican place we were treated to a nice rainbow over the military base lake.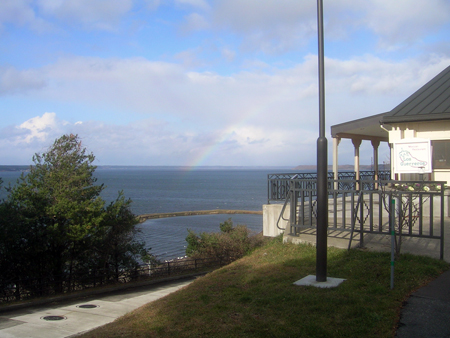 After lunch Susan and I ran a couple errands. We went by the post office and picked up Scott's camera battery which he had left in London, bought Scott some lunch and hit the ATM once again; Scott and I are headed to Tokyo tomorrow so I wanted some money for the trip. After the errands Susan headed off the cheer leading and Scott was home shortly after that.
Scott and I just farted around until Susan got home and then we all farted around some more until it was dinner time. We couldn't think of any good places to go so we set out driving. Nothing new was looking very appealing or they weren't open so we actually ended up going to the very first place that we went to when I got to Misawa.
The food was good and I even ate a deep fried scallop which Scott told me was a potatoe. It wasn't bad at all though. As seems to be the norm here the drinks flowed all through dinner and on the way home we stopped at the liquor store for some more chuhais. While we were at the store I decided to get myself a cuban cigar. It was expensive but it's not like I can buy a cuban whenever I want and let me tell you, it was a damn fine cigar. It was a Cohiba Siglo V which I read about and many say it is a near peerless cigar.
We didn't stay up that late, the night before had worn us all out pretty well and Scott and I are headed to Tokyo after school tomorrow so we needed to get rested up.