When it came time to choose a sound card for my HTPC the choice was pretty obvious to me, the M-Audio Revolution 7.1. At the time it was hands down the most popular sound card for HTPCs; and for good reason, it's a great card and not overly expensive. Since I bought the Revo (as it is commonly called) it has gotten it's fair share of bashing due to some driver issues and the fact that when it was released we were told that it would support DVD-Audio and that support never did come. I personally have never had any issues with the drivers or the sound card itself, it has been rock solid and has never even hiccupped.
I can't compare it against any other sound cards when it comes to fidelity, but the card sounds great. Sounds just as good or better than my old Panasonic RP-91 DVD player.
The one main thing that the Revolution is lacking is a digital input. Because of this the recording abilities of this card are a bit hindered, this personally wasn't an issue for me since I don't really plan on doing that kind of work on my HTPC. If I ever need to record I will use the Audigy 2 I have installed in my main day to day rig. I try and keep the HTPC as bare bones as possible so I can keep it as stable as possible. I use my dad to day computer for all my other computing needs, the HTPC is just for media playback and recording. M-Audio also didn't put an independent headphone jack on the card, they bundled the headphone jack with the analog front speaker output. This could be a problem for some. If you hook up your HTPC via the analog outs and you want to listen to the revo directly to headphones you will need to unplug your front speakers. Again this wasn't at all an issue for me, I don't listen to my HTPC with headphones and I use the digital out on the card so even if I did listen with headphones it wouldn't be much of a hassle for me.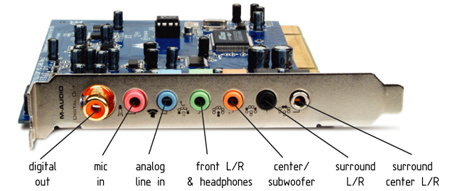 Overall, I have been extremely happy with the Revolution 7.1. It gives me great sound quality, it's been completely stable (I haven't had a single issue with the card) and it offers great value for the money. If you are looking for a sound card for your HTPC, definitely give the M-Audio Revolution 7.1 a look.
M-Audio Revolution Specs


24bit/192kHz audio playback


24bit/96kHz playback and recording


Any speaker systems are supported (from stereo systems and headphones to 7.1)


Dolby Digital 5.1 (AC3), Dolby Pro Logic, DTS and other multi-channel formats support


3D sound implemented through SRS TruSound II and SRS Circle Surround II technologies from SRS Labs


MME drivers supporting the following sample rates: 32, 44.1, 48, 88.2, 96, 176.4 and 192kHz


Output formats: 24bit Linear PCM, 16bit Linear PCM, 16bit AC-3, Dolby Pro Logic or DTS (via the coaxial connector)


Support of all popular media players, including Windows Media 9


Coaxial (RCA) S-PDIF output


Analog connectors for active speaker systems


Dynamic range of 106dB


107dB signal-to-noise ratio


THD+N –90dB


Frequency Response: +0.8/-0.0 dB, 20Hz to 20kHz; +0.8/-3.0 dB, 20Hz to 20kHz