I've had a HTPC for a long time now, my original one died and it was getting pretty outdated anyway so I decided it was time to upgrade. I built myself a new pretty powerful machine, thinking that I would be using my HTPC for Blu-Ray playback, which changed when I bought the Playstation 3. Here is the equipment in my current HTPC:
ASUS P5E-VM HDMI LGA 775
Intel Core 2 Quad Q6600
Microsoft Windows Vista 32-Bit Home Premium
Western Digital Caviar Blue 160GB 7200 RPM SATA 3.0Gb/s 3.5″ Internal Hard Drive
Crucial Ballistix Tracer 2GB DDR2 800 (PC2 6400)
Antec earthwatts EA430 Power Supply
ZALMAN CNPS7700-ALCU 120mm 2 Ball CPU Cooling Fan
Toshiba SD-M1712 DVD drive
Liteon Airboard Wireless IR Keyboard
Kanam HT200S (Silver) Case
Radeon HD 4850 video card (added later)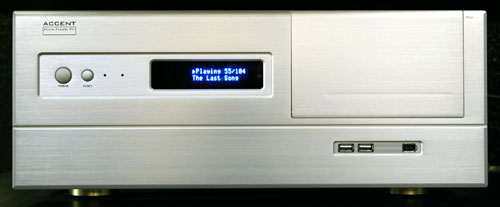 Some of these parts are carryovers from my old HTPC but the majority of it is new. I went with the ASUS P5E-VM HDMI LGA 775 motherboard because it had HDMI out which would cover both my sound and video. I ended up really regretting this. I had nothing but trouble using the HDMI out on this motherboard, I was seriously plagued with blue screen errors and nothing I did to try and fix it worked. I think I was having so many problems because I was running dual monitors and I also blame a lot of the problem on Vista (which I feel has been a major failure for Microsoft). I finally gave up trying to use the HDMI out on the motherboard and bought myself a Radeon HD 4850 video card which also uses HDMI. This helped the problem a lot, but it still didn't eliminate it.
I got so fed up with all the headaches that the HTPC was causing me I ended up going in a different direction in my theater. Instead of using the HTPC to watch movies I bought an Oppo DVD player, a decision I haven't regretted at all. I no longer use the HTPC as a DVR, my Comcast cable DVR works just fine for me, the only problem being the lack of being able to permanently archive things (I just use torrents for that now).
Pretty much my HTPC is just used for listening to my vast collection of MP3's, watching video files and for gaming. My system has way more horse power than it needs for listening to music and watching videos but it's great for gaming. I love playing first person shooters on the 106″ screen.
I used to be a much bigger fan of HTPC's than I am now. When they work properly they are great, but when things start to go wrong they can really have you pulling your hair out and screaming at inanimate objects. I will most likely have one in my system for a very long time coming, I have all of my music in digital format and the HTPC is great for that, I also do a lot of torrenting so the HTPC makes it easy for me to watch that stuff in my theater, and of course gaming is always fun.